Manic Witch
Wednesday, April 23, 2008
It's my birthday and I'll cheer if I want to...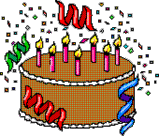 I'm pretty ok with turning 42 this year. My tests went fairly well yesterday. I'm down 6 pounds! Well, duh. I knew I lost at LEAST that much Monday night. Now to make sure I keep it off.
So anyway...HAPPY BIRTHDAY TO ME! Feel free to send your
gift cards
birthday wishes.
Manic Witch wove her spell:: 4/23/2008 06:55:00 AM ::
|
---------------oOo---------------