Manic Witch
Sunday, January 21, 2007
WOOOOOOOO!!!
Chicago 39. New Orleans 14.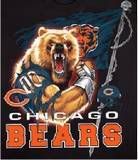 "We're so bad, we know we're good. Blowin' your mind like we knew we would. We're not here to start no trouble. We're just here to do the Superbowl Shuffle."
Actually, it's kind of sad that everyone here is singing a song created by a team from 21 years ago. But who the fuck cares? WE'RE GOING TO THE SUPERBOWL!
Manic Witch wove her spell:: 1/21/2007 06:51:00 PM ::
|
---------------oOo---------------