Manic Witch
Monday, November 07, 2005
A witches work is never done...
Busy weekend at the Witch household. We finally got SIL's shit out of our garage-that we've been storing for almost 3 1/2 years! Hubs finally has room to work and spread out all his toys. Hubs is a happy witch. I power cleaned our bedroom. Under the dressers, under the bed, deep into the corners of the closet, emptied "junk drawers"...3 garbage bags of crap, along with a pile of stuff to
Freecycle
. I started this as my fall cleaning project, but from the looks of my last post, I think I need to clean the house for a "Sip and Stitch" party. So far
Isis
,
Ari
,
Andie
and
Queen
are interested. I can get a few bottles of White Zin. Any other suggestions? Oh-and you ladies will need to bring a dish to pass. Now I have an incentive to get the house cleaned up quickly. Hee-I loves me a good party.
And of course while we were busting our humps to get the house cleaned, I come in the living room to check on the game (BEARS WIN! BOO YAH!), and what do I find??
.
.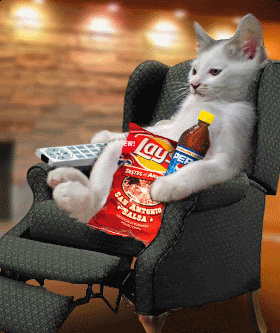 At least the little shit wasn't into my MGD.
Manic Witch wove her spell:: 11/07/2005 05:57:00 PM ::
|
---------------oOo---------------