Manic Witch
Monday, October 03, 2005
Ramblings and football and pics. Oh my!
I'm on a mini-vacation through Thursday. Doc is on vacation and since I don't have any vacation time banked (she is really, REALLY stingy with that), she is allowing me to come in for a couple of hours a day to get some time on the clock and to catch up on BS paperwork. I guess its better than nothing. It kind of sucks that its in the middle of the day though. I do get to sleep in, but I have to break from lazing around to go in. Of course I'm home by 1:15, so I have the rest of the day to hang out, blog, read, knit. I should probably get some yard work done too, before autumn hits us with a vengence. For now though, its hot and muggy. In October. In Chicago. Go figure.
I do love autumn though. The cool air, the colors, the crisp leaves. It does make me sad though. I am not looking forward to winter. The naked trees look so sad too. Except when they are covered with snow. But that means that the roads are covered too. And that its damn cold here. Brrrr.
Looks like
Blogrolling
is back up. Yay. Yahoo is being pissy though. I am trying to get messenger running and its all kinds of fucked up. I have deleted it off my system bunches of times already and when I try to re-install it, it tells me that its still there. I may need to bring in the Superman of technology. Hubs? Are you reading this?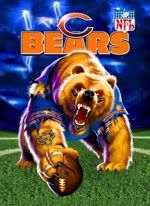 My "boys" are at the top of their division! Ok, its only 4 weeks into the season, and they had their "bye" week this week. BUT, the "Jackers" are 0 and 3 for the season! Bwaahahahahaha! The Vikings got their asses handed to them yesterday by the Falcons and the Lions are just sucking ass this year too.
Hubs' Broncos are kicking ass this year too. So, its a Blue and Orange season at the Witch household. My fantasy is that the Bears and Broncos play each other on High Holiday. (Whoops-I mean SuperBowl). Of course then it would mean that for the first time in our marriage, Hubs and I would be competing against each other. Still...
I am finally making some headway on this thing. The shower is in less than two weeks though.
Queenie
suggested before that I can give Fetus the blankie for a christening gift or for Christmas. I am hoping I will have it done to give him/her when s/he is born. Due date is November 12th. I just started the 2nd skein a few days ago. I might just make it. There are a few other projects that I want to get started on, but I know I have to finish one at a time, otherwise I will have half-finished projects laying all over the place.
Isis
? How do YOU do it?
*edit* That looks kind of cool, the way the blankie pic spills over into my sidebar. Is that how YOU see it? It won't last long though. As soon as I post some more, it will end up being further down. But for now, I like it.**
Manic Witch wove her spell:: 10/03/2005 09:49:00 AM ::
|
---------------oOo---------------